New Solid Roof Conservatories by Finesse Windows
The new range of Solid Roof Conservatories from Finesse Windows overcomes the issue of your conservatory being too hot in the summer and too cold in the winter whilst retaining the light element of a standard conservatory. This combined with the feel and thermal efficiency of an extension really meets the challenge most home owners are looking for as part of their home improvement conundrum. In short better insulation and heat control coupled with improved privacy and stylish flexibility meeting the challenges of modern living.
Externally you see a stunning tiled finish, which can be broken up with the use of glass panels to enable the flood of natural light into the room or adjacent rooms; the glass panels can be further specified to help reduce glare and heat from the sun. The apex can have a fully modern aluminium cap or a more traditional tile roof capping, with the ability to again break up the glass side panels externally using a variety of coloured external fascia boards.
Internally you have the feel of an extension with a vaulted plastered ceiling, with around the perimeter of the ceiling an internal pelmet; giving you endless options of how make it your own.
Of modular construction, SolidRoof Conservatories are pre manufactured to ensure speed and quality of on site installation with minimal disruption to your home. Although always requiring Building Regulation approval (which we manage on your behalf), but you are still able to extend into your garden by up to 4 metres without planning permission on detached properties ( or 3 metres on semi-detached or terraced properties).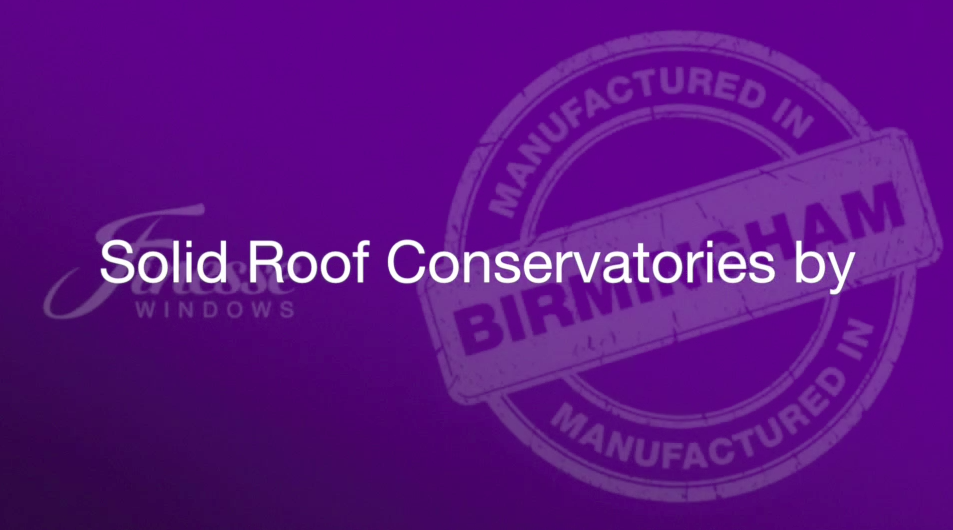 CLICK THE IMAGE ABOVE TO WATCH OUR SOLID ROOF CONSERVATORIES VIDEO
Finesse Windows would like to welcome you to come and view an example at our Kings Norton Showroom, or alternately please give us a call on 0121 451 3724 to discuss if our Solid Roof conservatory could be the solution to your luxury living space challenge.