Garden Rooms by Finesse
WHICH? Recommended & Approved
Garden Rooms are the latest product offering to be added to Finesse Windows Home Improvement range which we have supplied to Birmingham, and the West Midlands for nearly 40 years. Our Garden Rooms are made from composite wood which has the natural look of timber and the feel of real wood, without the splinters or the required maintenance.
Often referred to as Garden Pods, our composite wood Garden Rooms offer up to 3 times more wall insulation than standard timber garden rooms giving you a real ALL YEAR ROUND room to use. Simple to maintain, with no sanding or painting required, with a EPDM BBA certified waterproof roof our Garden Rooms are made from an ethically sourced, traceable recycled mix of 60% wood and 40% recycled polymers with a fully insulated core.
Fully modular and flexible in design, Garden Rooms by Finesse offer you the ability to design extra space exactly as you need it.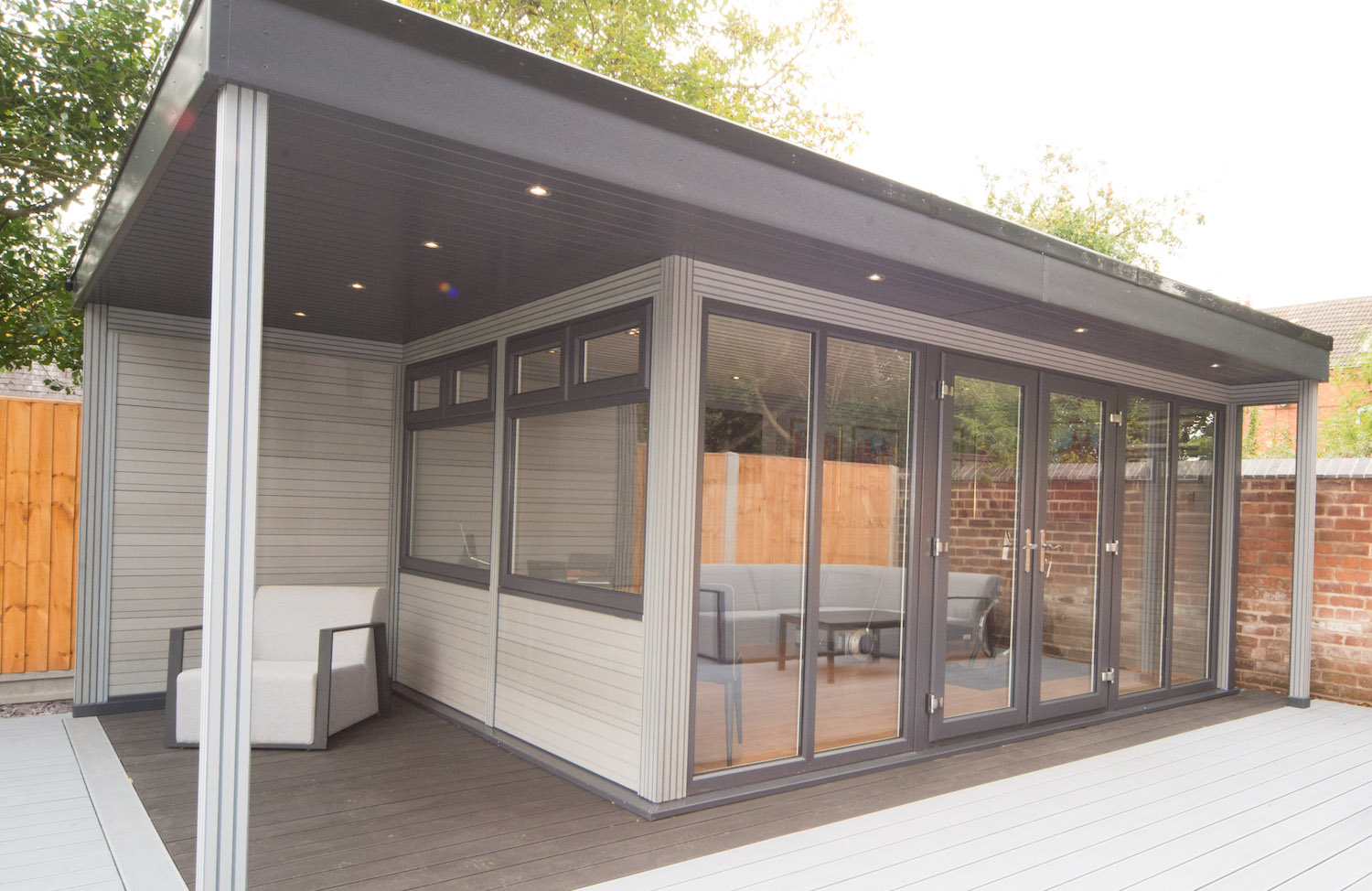 1
Ultra Secure
Fitted with our A-Rated Windows and Doors as standard
3
Insulated Styro Floor
With Laminated Floor Finish Available At Extra Cost
4
Wide choice of Finesse Windows & Doors
Configured to suit your requirements
5
Waterproof Rubber Roof
EPDM BBA Certified Warm Roof System
6
Lighting
Internal & External Spot Light System
7
Excellent Heat Retention
With a U-Value of 0.22 W/m2k for the roof and 0.44 W/m2k for the wallboards
LOW MAINTENANCE
Can be jet washed – never needs painting – fade resistant
DURABLE LONG LASTING
Covered by the Finesse Windows 10 Year Guarantee
NATURAL LOOK
All the benefits of timber – without the splinters or maintenance
ECO-FRIENDLEY
60% recycled timber / 40% polymer
Garden Rooms by Finesse Windows are designed to provide you with that perfect luxury living or workspace for your home and garden. Fully modular in design, they can be tailored to meet your exact requirements and budget. From 2.3m x 2.3m right up to 8m x 4m in size, with either Canopy or No-Canopy overhang, Garden Rooms are perfect whether you need a space to work, relax or even workout.
Garden Rooms are perfect for a variety of uses:
Home Office
Beauty Therapy Treatment Rooms
Home Gyms
Additional Luxury Living Space
Built to Finesse Windows exacting standards, with quality in mind. Each building is constructed on site by our skilled fitting team and fitted with our award winning Windows and Doors as standard. Your Garden Room comes with spot lights as standard, and construction includes the commissioning of electric feed including a dedicated consumer unit inside the building.
We offer a range of 4 Garden Rooms colours as standard, which can then be matched to our full range of Window and Door colours. Garden Rooms by Finesse can allow you to have the door and window configuration suited to meet your needs; including the installation of French Doors, bi-fold, and Sliding Patio Doors.
Perfect uses of a Garden Rooms by Finesse
Extra Luxury Living Space
Garden Rooms Brochure Request
Our expert team here at Finesse Windows can help you to find the perfect luxury garden room solution for your home.  Simply fill in the contact form below to receive a copy of our brochure.
About Our Garden Rooms Range
Fully Insulated for all year use
EPDM BBA Certified rubber roof waterproofing system
Installed with internal and external spot lights and electrics as standard
Insulated Styro Floor as standard with Laminated Internal Floor finish available at extra cost
Wide range of colours for building and the Finesse Windows ultra secure A-rated windows & doors
Fully flexible in design configuration
Low maintenance
Covered by Finesse Windows 10 Year Guarantee
| | | | | |
| --- | --- | --- | --- | --- |
| Product Reference | Room Size Exterior – Width | Room Size Exterior – Projection | Overall Base Footprint Width | Overall Base Footprint Projection |
| SS1 – No Canopy | 2316 | 2316 | 2316 | 2316* |
| NC1 – No Canopy | 3316 | 2316 | 3316 | 2316* |
| NC2 – No Canapy | 3316 | 3316 | 3316 | 3316* |
| NC3 – No Canopy | 4862 | 2316 | 4862 | 2316* |
| NC4 – No Canopy | 4862 | 3316 | 4862 | 3326* |
| NC5 – No Canopy | 6408 | 3316 | 6408 | 3316* |
| IC1 – With Canopy | 3316 | 2316 | 4956 | 2916 |
| IC2 – With Canopy | 3316 | 3316 | 4956 | 3916 |
| IC3 – With Canopy | 4862 | 2316 | 6502 | 2916 |
| IC4 – With Canopy | 4862 | 3316 | 6502 | 3916 |
| IC5 – With Canopy | 6408 | 3316 | 8048 | 3916 |
Roof on all Non-Canopy versions does over hang a further 600mm past stated base projection
Plan Your Dream Luxury Living Space
Simply complete this contact form and we will arrange for a printed copy of our Room Planning Guide to be sent across to you. Alternately pop into our Showroom and one of team will work with you to plan your new luxury living space.
Ultion Doors
Secured by design door locks…
Few locks survive the test designed with the Master Locksmith Association and carried out by locksmiths.
The official UK Police flagship initiative combining the principles of 'designing out crime' with physical security.
Approved by British Standards

Kitemark is the standard of excellence recognised around the world. Ultion is accredited with the highest 3 star rating.
Finesse Windows fits Ultion locks as standard on all its doors. Ultion Locks have passed all major british standards tests for security. The moment that the lock detects forced entry it activates an attack lock directly into the central cam, this is 'Lock Down Mode'. When Ultion is in Lockdown Mode your home and family are safe. Finesse Windows Ltd
39 Melchett Rd
Kings Norton Business Centre
Birmingham
B30 3HP

enquiries@finesse-windows.co.uk